International Equity
Investing remotely in a global equity or a basket of international equities in a secure and straightforward way has become easier.
What Is
International Equity Investment?
An international equity investor invests in companies located anywhere in the globe outside the investor's country of residence. Experts at Swyom Capital offer investors detailed guidance on how to invest in international funds as well as equip them with relevant updates on the current market trends, international stocks, ETFs, and foreign equity mutual funds.
Attributes Of International Equity Investment
With foreign stock market funds, both institutional and retail investors get the opportunity to buy and hold assets such as equity, bonds, and other securities with high potential in the long run. Irrespective of the economic condition of the domestic market, the investor can still generate consistent returns by diversifying portfolios across multiple countries and beyond geographic boundaries.
The Upside Of
International Equity Investment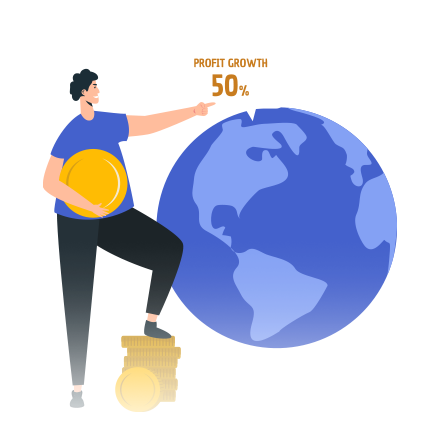 Diversify Across Geographic Boundaries
The practice of diversifying a portfolio across diverse geographic regions helps lower the risk of exposure to political and economic interruptions. No single nation can consistently outperform the rest of the international stock market.
Both individual and institutional investors can strategically organize their investment in foreign stocks accustomed to varying macroeconomic conditions. With international equity mutual funds and stocks, investors get the opportunity to invest in every nation's economic cycle – one that spans years. Diversifying across geographic boundaries enables investors to experience relatively less volatility as well as boost returns.
Take your
Portfolio global
Investing and saving internationally, made smart, simple and secure.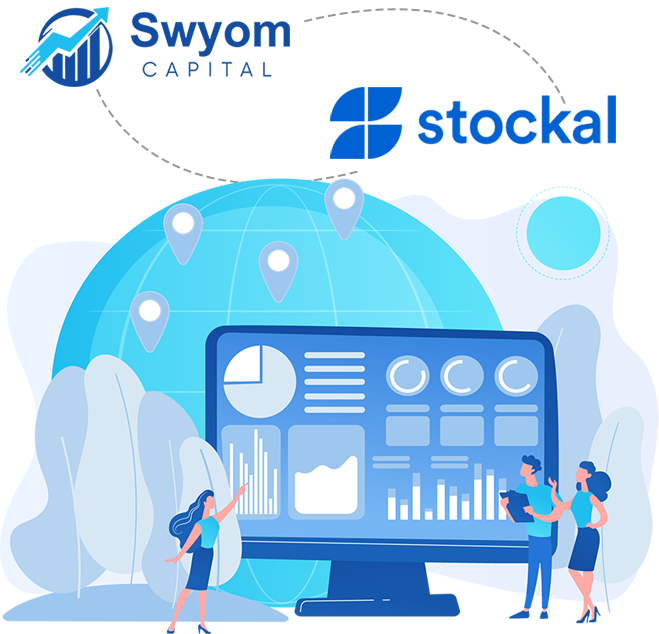 Get Quality-driven Growth With International Equity Investments
Swyom Capital aims to help investors generate strong relative returns over the complete market cycle by investing in foreign stocks/ company shares with strong or promising and/or improving financial productivity/ gains at attractive valuations.

Real-time Implementation
At Swyom Capital, you get best-in-class execution speed. From Notes to deal execution to transfer of funds and shares, every single process is executed in an organised manner and the shortest period.

Trust
Swyom Capital is one of the most trusted wealth management brands in India. We are featured in top media outlets.

Data And Analytics
Analysts at Swyom capital adapt to the ever-changing market demands, browse through numerous bad-to-good investment opportunities and find one that is backed by research – based on fundamental analysis.

Guaranteed Returns
We not only help you understand how to buy bonds in India but also enable you to derive better value from your bond holding with guaranteed higher fixed returns.

Assistance
Expert associates at Swyom capital provide best-in-class assistance and handhold clients through every step of the process. Additionally, we simplify the process to suit clients' needs.

Get Frequent Updates
We provide you with the latest updates on your bond holdings, interest payments, and the overall state of the bond market. We help you stay on top of the bond investments.

No Hidden Charges
At Swyom capital, transparency is one of our core values. In case of asset sale or purchase transactions, we don't implicitly impose hidden fees and no hidden service charges to clients.

Get Right Price
Experts at Swyom Capital provide the best buy-sell quote on trades. The ever-expanding client base and trade volume allow us to provide the appropriate rate in the industry.

Premium Support
Experts at Swyom Capital are equipped to answer most of your questions - such as how to buy government bonds in India, or how to buy bonds in India. We are always here for you. We are here to help your get the most out of our services.
International equity funds work the same way as investing in domestic mutual funds operate. In the domestic stock market, the funds invested in the market are in rupees. With international equity investments, the investor can invest in stocks of enterprises that are listed on exchanges outside of India. Swyom Capital helps you purchase global equities and build a diversifies portfolio. Global equity funds are well-designed portfolios constituting various assets, such as stocks of foreign companies.
An investor with a well-diversified domestic equity portfolio looking forward to investing in global market leaders or capitalizing on economic opportunities in different markets should invest in international/ foreign equity mutual funds. The foreign stock market is ideal for an investor with a long-term investment horizon. Investing in foreign stocks help investors protect funds from the volatility of domestic and international markets. Additionally, it helps investors reap the benefits of long-term compounding.
International equity Funds allocate funds to valuable assets such as stocks listed outside of India (domestic stock market). Numerous global equity funds only invest in specific countries or regions. On the other hand, investment funds invest across the globe. Investment funds also decide on an industry/ sector/ theme and invest in stocks that fit into this grand theme from different international markets.